Zion students and staff collected 79 POUNDS of Pull/Pop Tabs for the Ronald McDonald House. The top 3 classes were Mrs. West's 7th grade with 22 POUNDS, Ms. Kester's 1st Grade with 14 POUNDS and Mrs. Hopkin's 3rd Grade with 10 POUNDS. Little by little it adds up. Thank you everyone for bringing the tabs. Mrs. West's class will enjoy a pizza party in the near future. Please continue collecting for next year.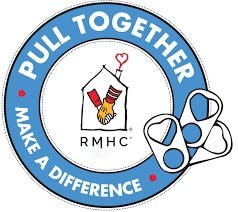 Friday was "I'm Not Going To Get Up" Day. Students wore their pajamas to school.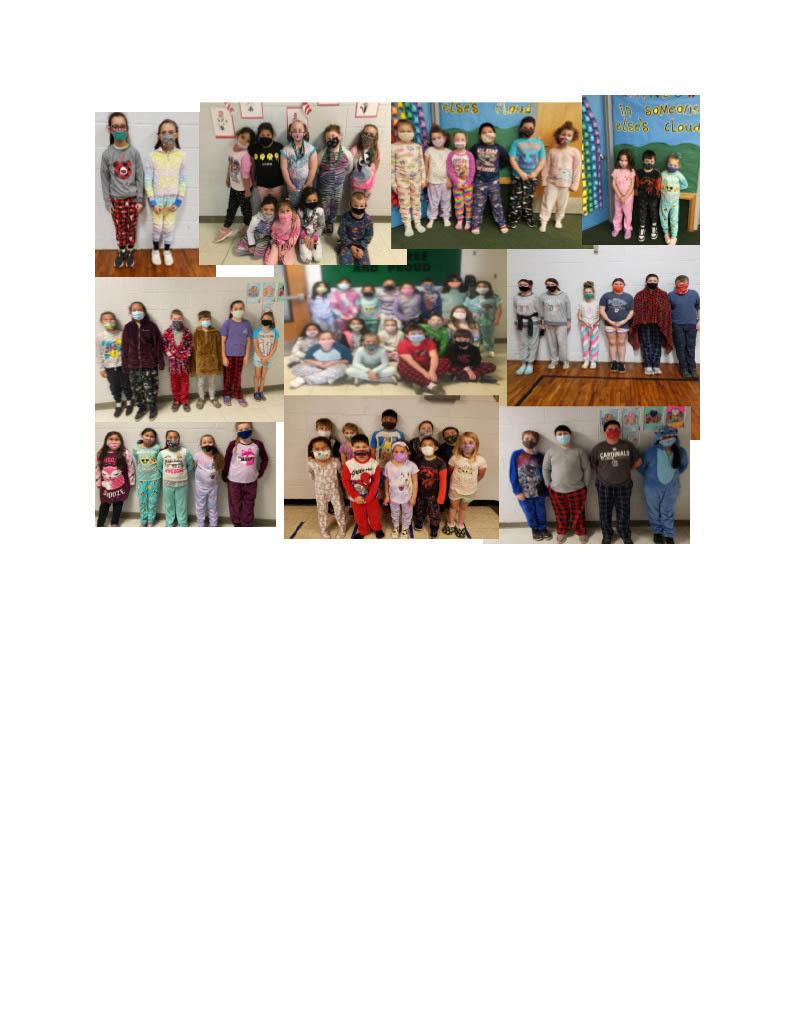 Thursday was "Green Eggs and Ham" Day! Zion Students look good in green!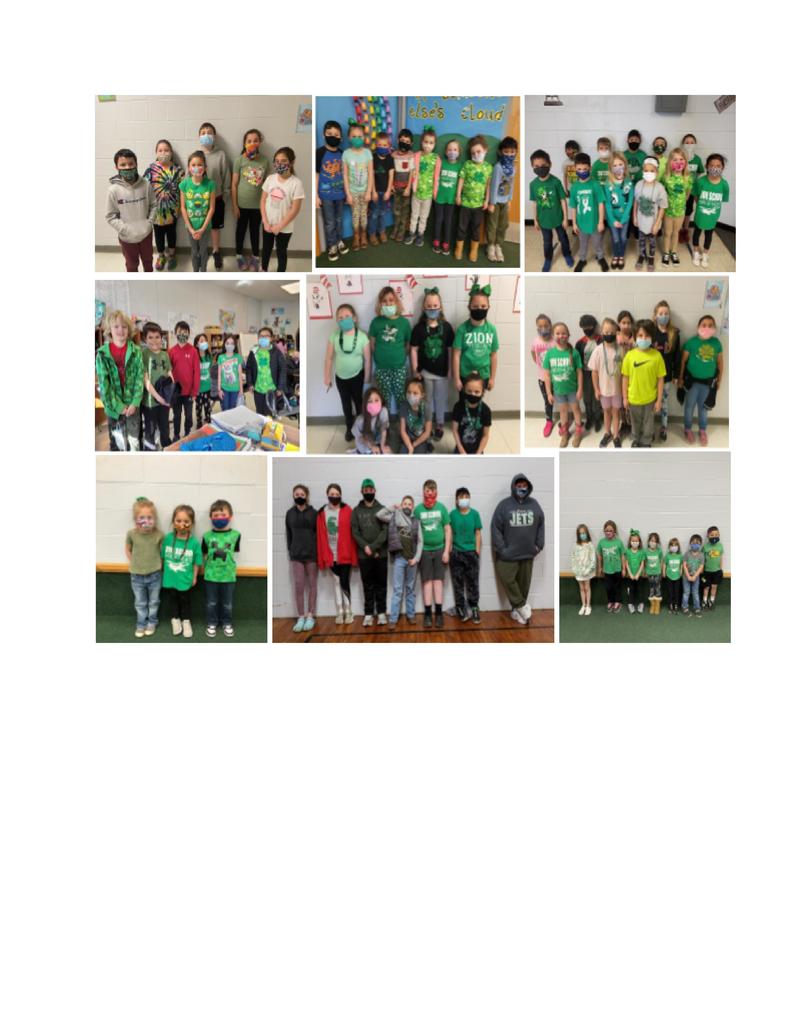 MENU FOR MARCH 8TH -11TH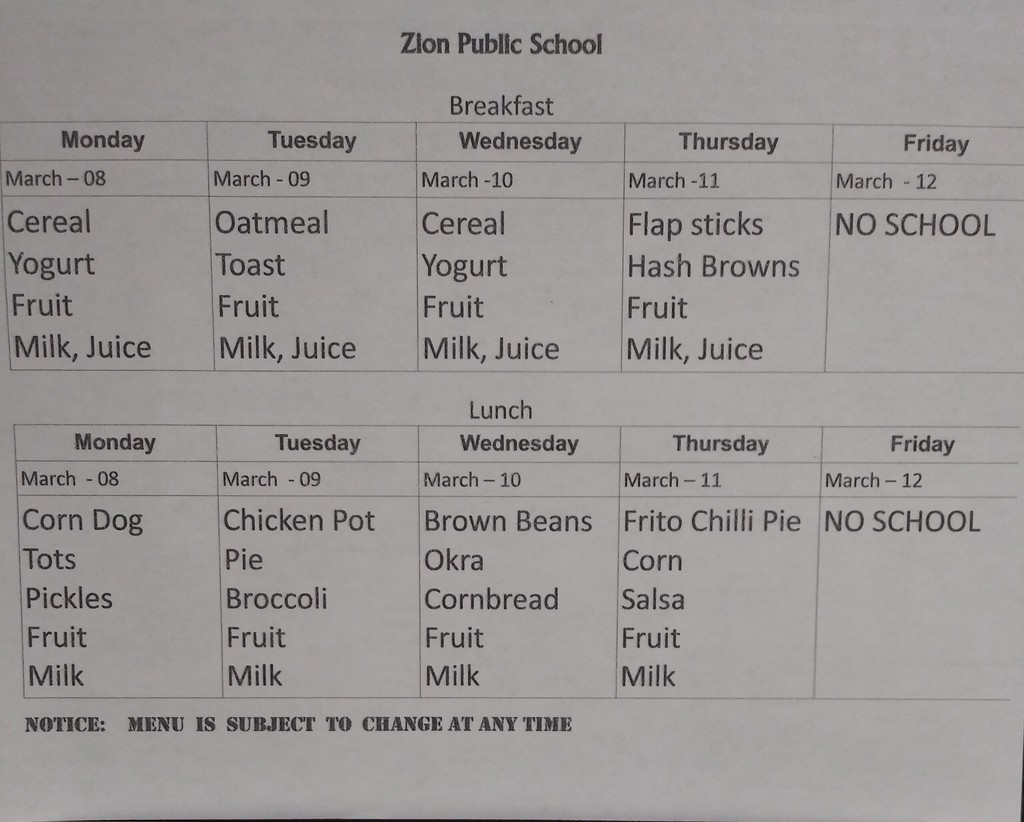 Wednesday was "Cat in the Hat" Day. Students and staff showed up in their hats and as Thing 1 and Thing 2! Tomorrow is the last day to collect pop/pull tabs for the Ronald McDonald House. Pop/pull tabs will be collected again next year so keep on collecting! Coin War for St. Jude's Children's Hospital will go until Thursday, March 11!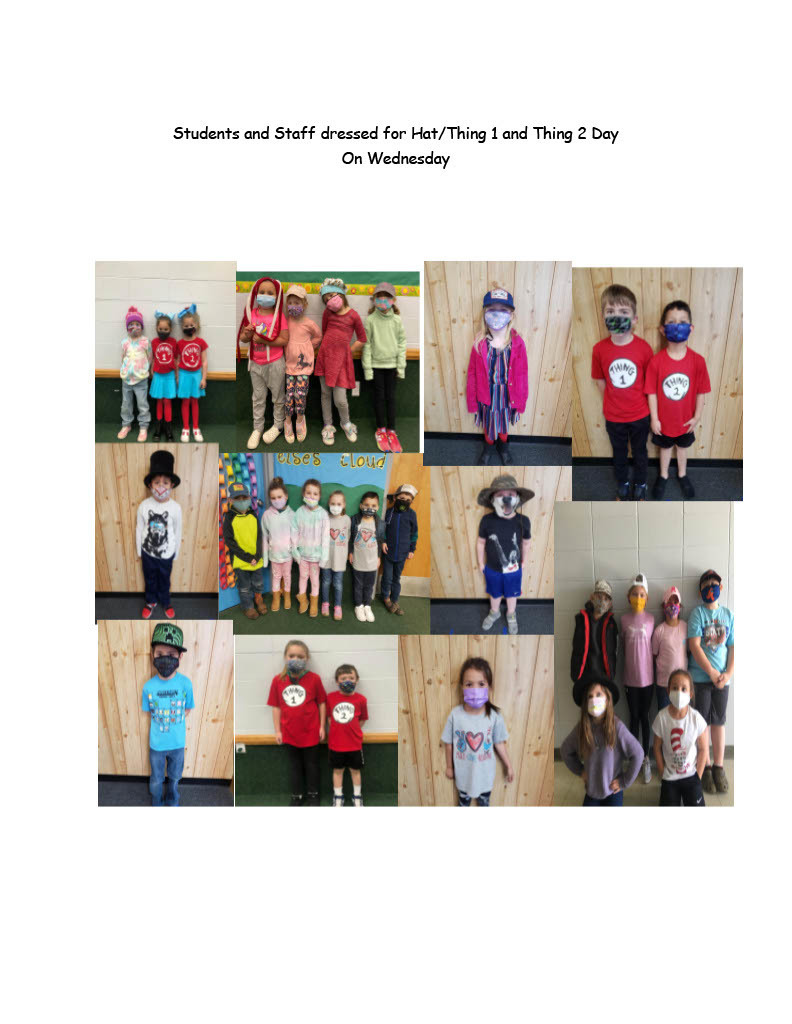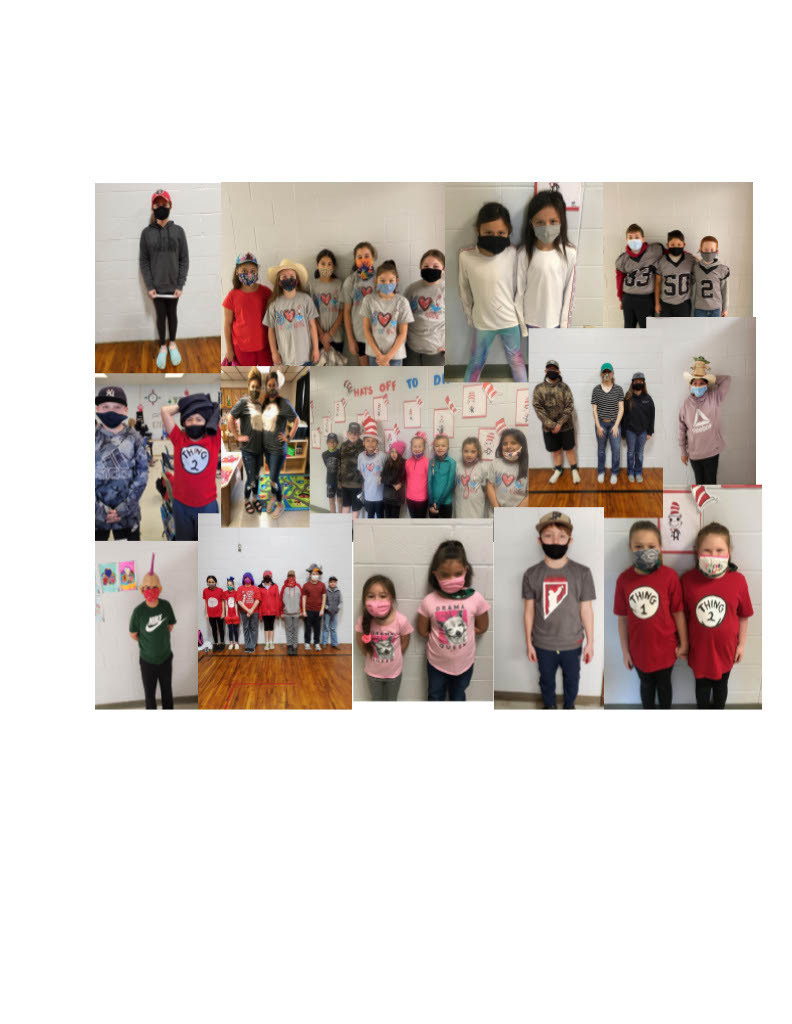 UPDATED PHOTOS Tuesday was Favorite Book Character Day. Check out these awesome characters! Thursday is "Green Eggs and Ham Day" so wear your GREEN! Pop/Pull Tabs due Friday, March 5! Coin War ends Thursday, March 11!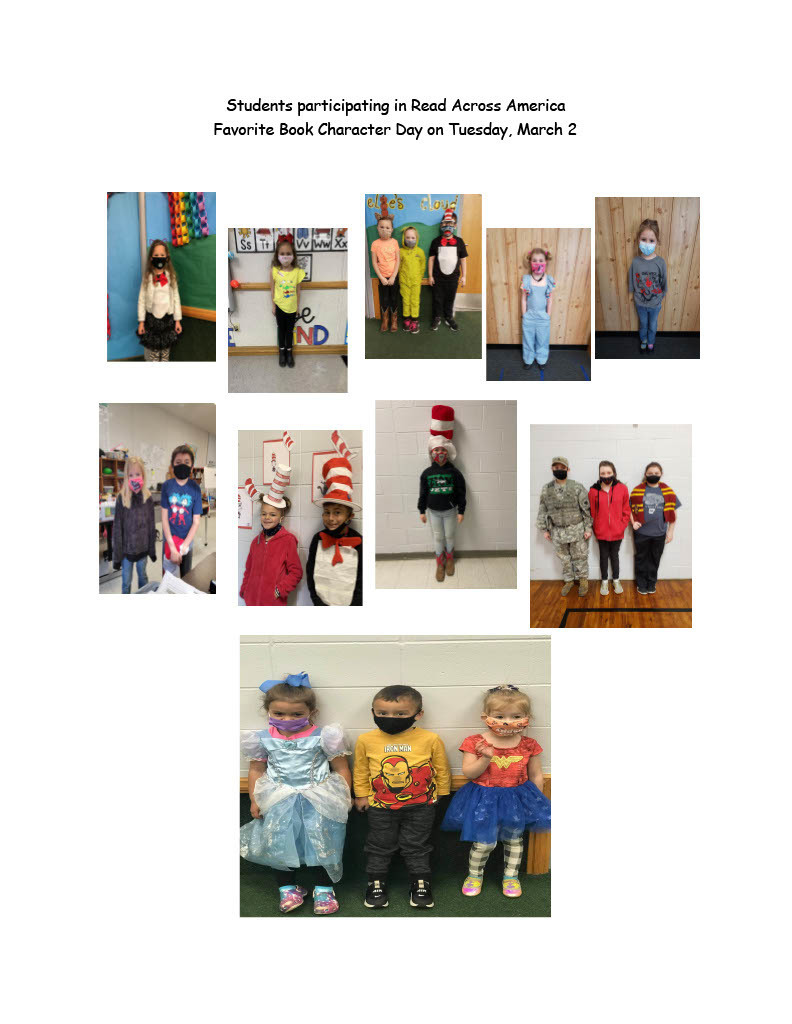 Even the teachers love dressing up for Read Across America Week!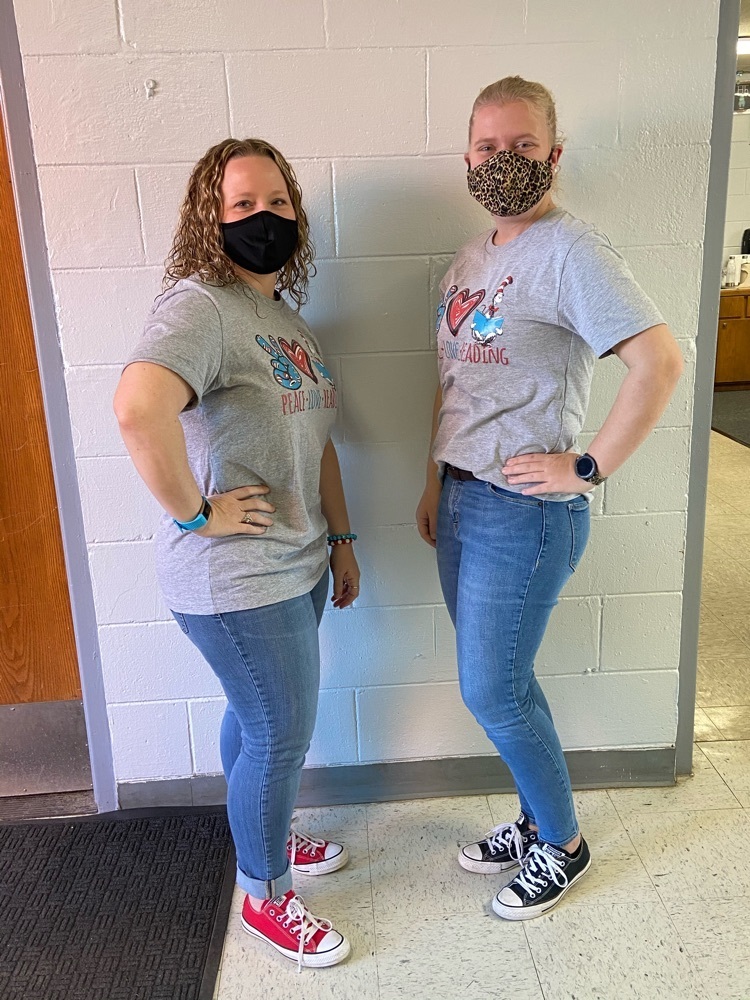 Our 3rd graders had fun learning about geometry!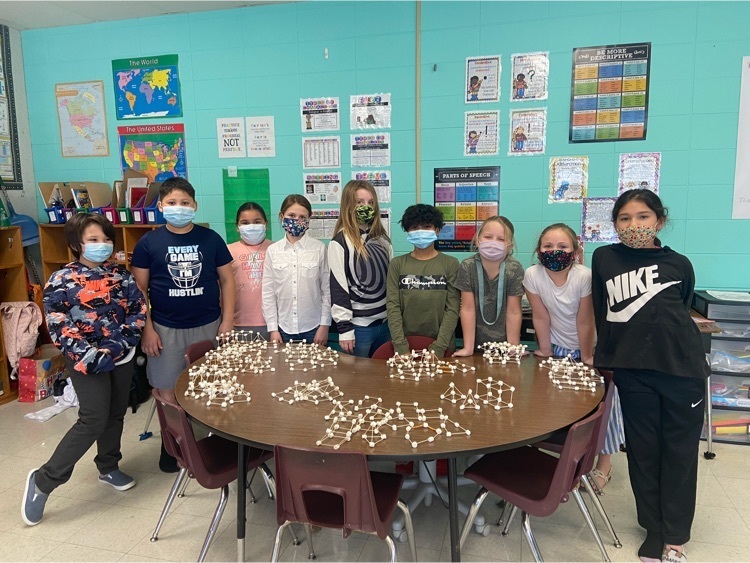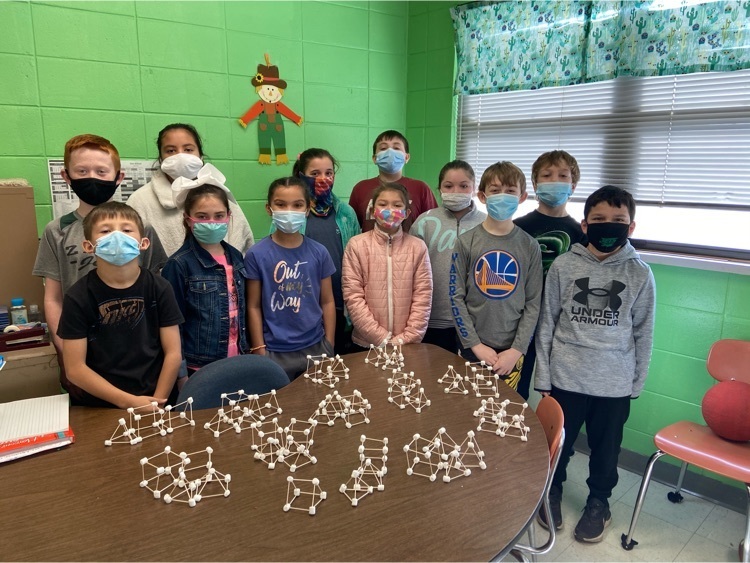 Zion School 2021-2022 Preschool Early Enrollment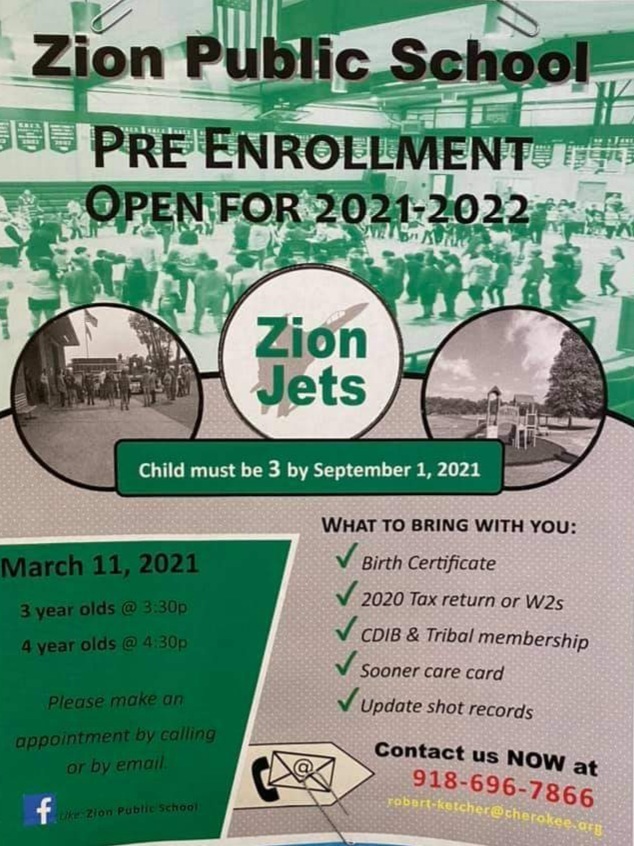 This week is Read Across America Week. Today we celebrated with birthday cake made by the cafeteria ladies for Dr. Suess' birthday! Don't forget this week is the last week for Pull/Pop tabs! Our Coin Challenge for St. Jude's Children's Hospital will end next week!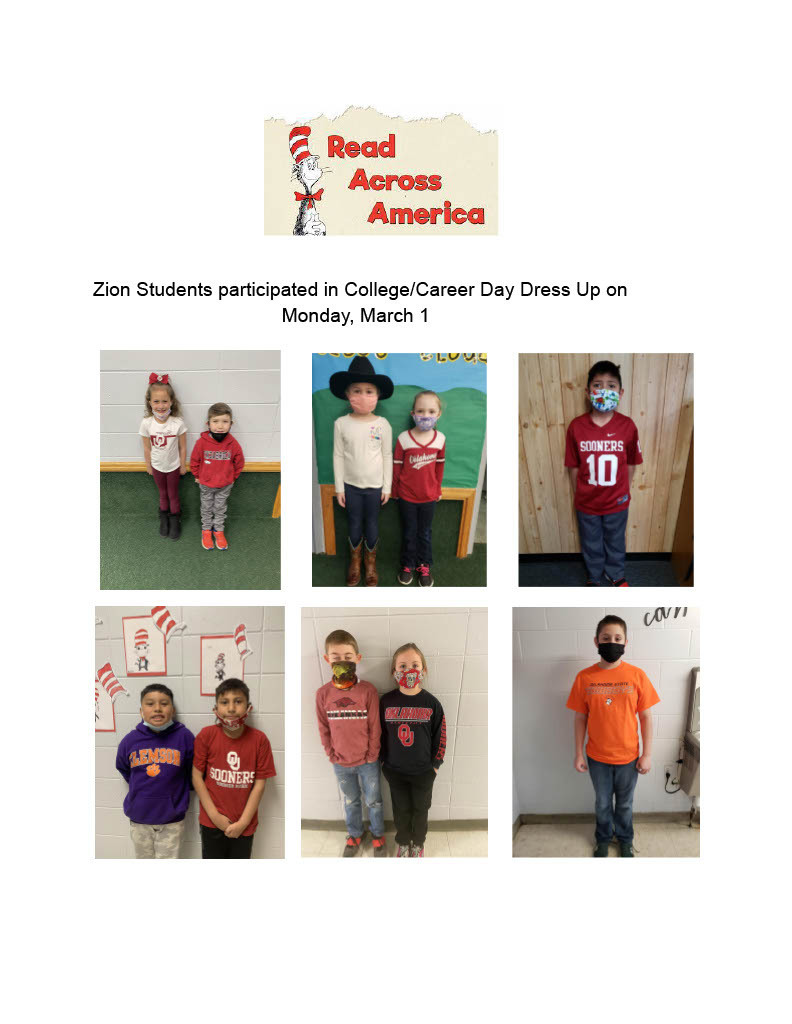 March 1 - 5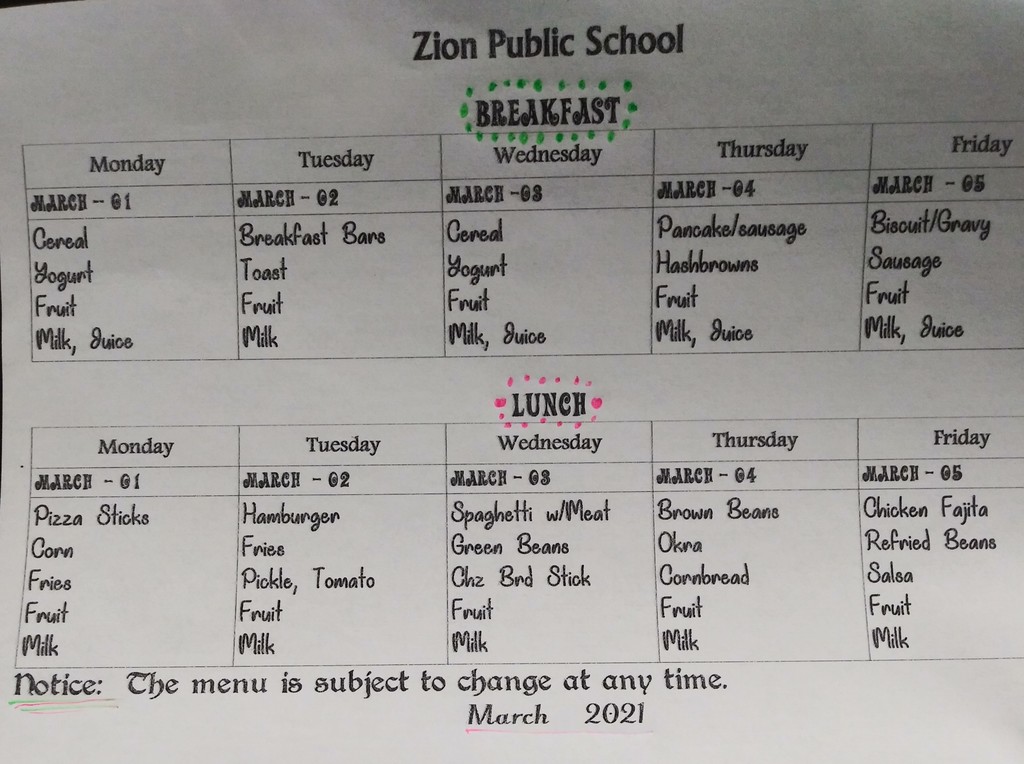 Zion School's Veterans Day program is scheduled for Wednesday, February 24, 2021. The thirty minute program will begin at 10:00 a.m. in the George E. Starr Fieldhouse. Students from the sixth, seventh, and eighth grades will be performing in the program. However, to keep everyone safe, only Veterans and their families are invited to attend. All attendees will be required to wear a mask and maintain social distancing. We plan to live stream the program in to the student's classrooms and on our school Facebook page.

Zion students are enjoying some much needed outdoor learning time and activities after last week's winter weather.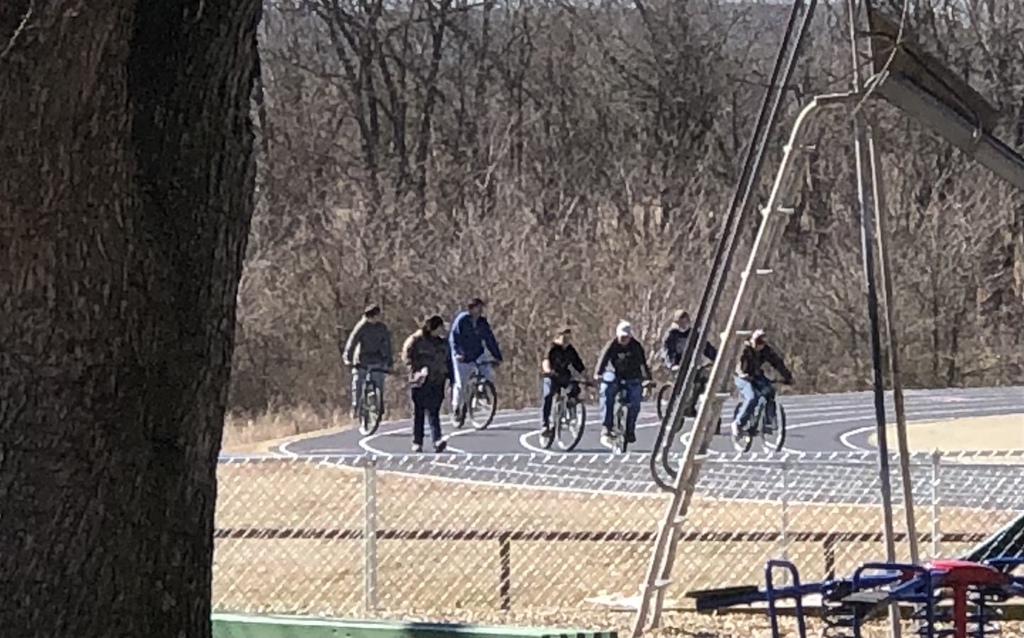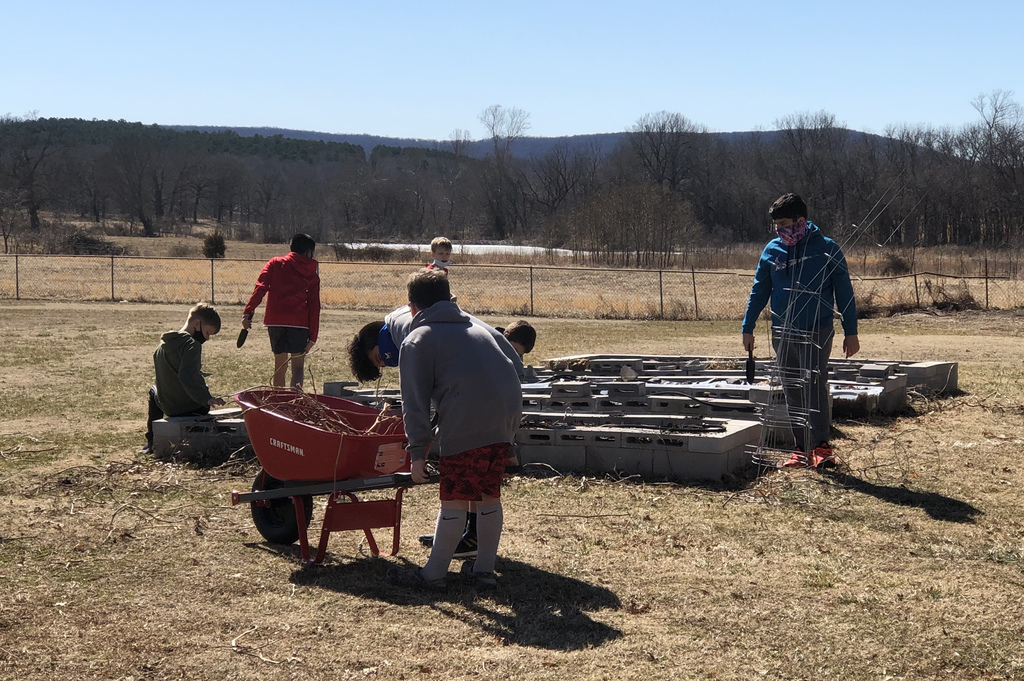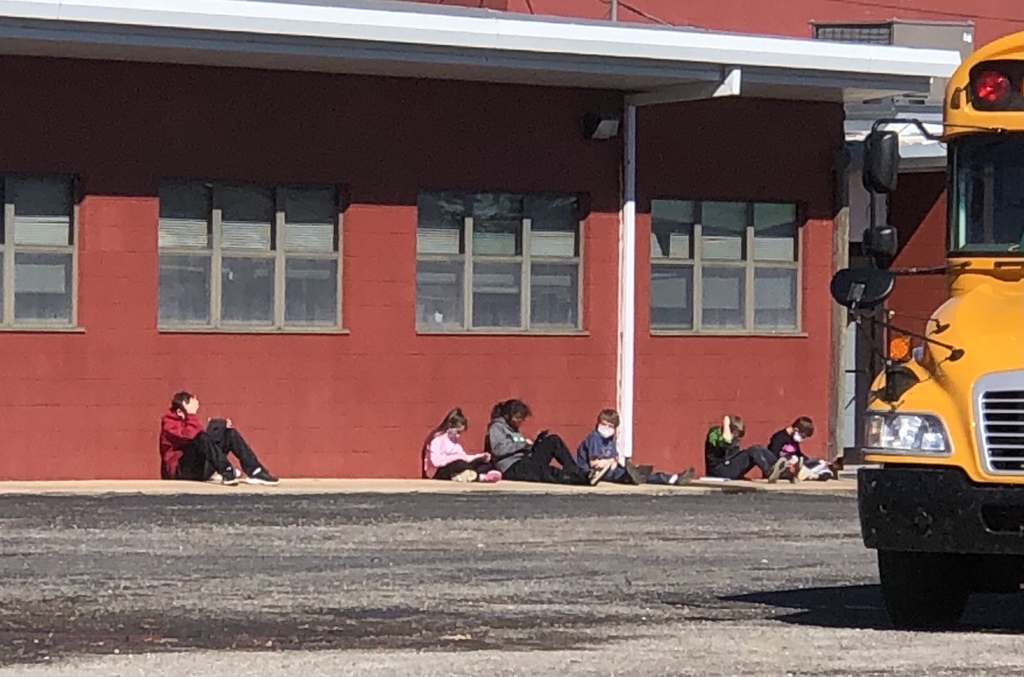 ***4H Valentines will be delivered tomorrow to those that were absent" *** Dr. Suess shirts can be ordered and bought at C& J's T-Shirts in Stilwell if you didn't get to order from the school. ***PULL TAB COLLECTIONS FOR THE RONALD MCDONALD HOUSE WILL START TOMORROW!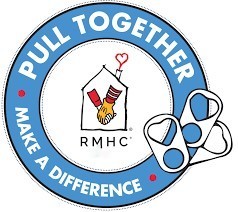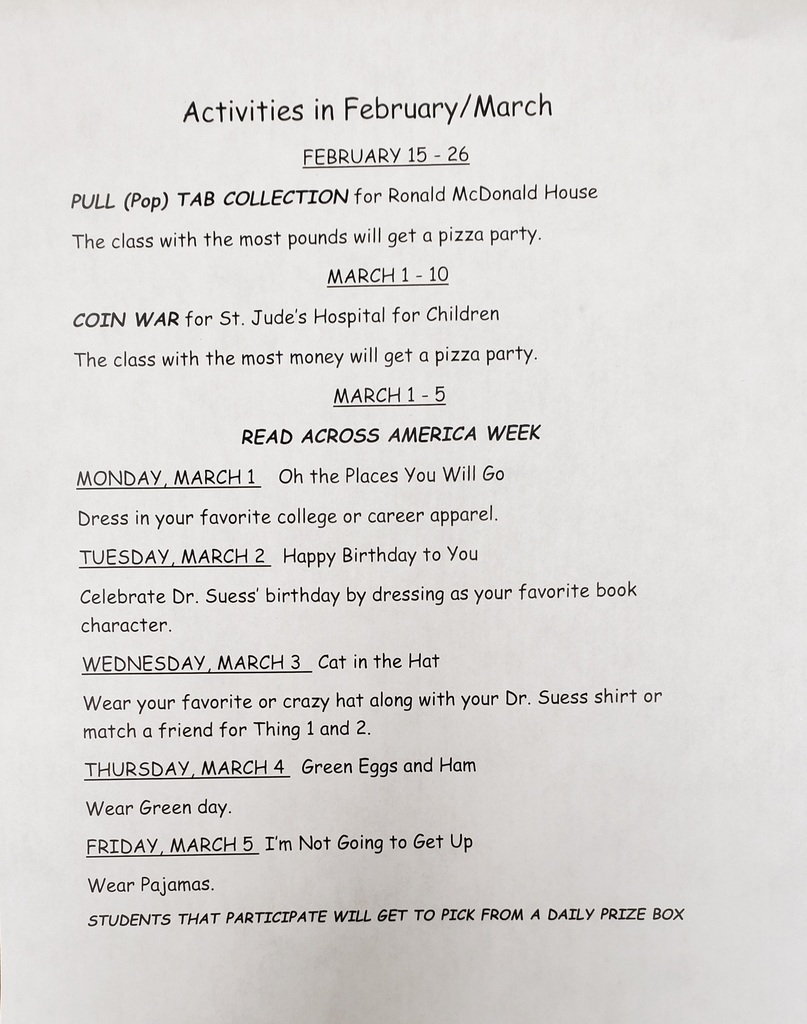 Grant Notification and Survey Request: Our school is pleased to partner with the American Indian Resource Center (AIRC) through the Native ACE grant. The grant will serve all students in grades 5-8. Please help by telling us what services are important to you and your child. If you can complete the survey by Friday, February 19, it would be much appreciated. We would like to hear from all of you. Thank you. Parents, you can access the survey through the link:
http://bit.ly/nativeaceparent

The Veteran's Day Program that was scheduled for Thursday, February 18 will be postponed for a later date.

Zion Public School will be virtual, Thursday, February 18 and Friday, February 19. Students please check your email and google classroom for assignments. Attendance will be taken based on participation. Stay safe and warm!

Due to inclement weather Tuesday Feb 16th & Wednesday Feb 17th will be Virtual Days. Students be sure to check your emails and Google classroom for assignments. Attendance will be taken based on participation. Please be safe!!

Due to inclement weather, we will be having a virtual learning day tomorrow, February 15. We ask that all students check in with their teachers and their google classrooms to receive instruction for the school day. Attendance will be taken based on participation. Stay safe and warm!

Adair County Emergency Management has announced that there will be a COVID vaccination Clinic hosted by Adair County Health Department for ages 65 and older on February 17, 2021 at the First Christian Church in Stilwell (Across from Dollar General) from 9 am to 3 pm. Call Adair County Health Department starting Friday, February 12, at (918) 696-7292 to schedule appointments. Pafford EMS and Staff from Stilwell Memorial Hospital will assist with this clinic as well.